When listing your home for sale, it is important that it be "show ready". As part of the comprehensive Comparative Market Analysis, your realtor will offer specific suggestions and tips to get your home ready to list.
Listed below are some ideas and common suggestions to give you a head start.
No matter how good the interior of your home looks, buyers have already judged your home before they walk through the door. You never have a second chance to make a good first impression. It's important to make people feel warm, welcome and as safe as they approach your house. Spruce up your homes exterior with inexpensive shrubs, and brightly coloured flowers. You can typically get a 100 percent return on the money you put into your home's curb appeal. Entryways are important also. You use it as a utility space for your coat and keys, but when you are selling, declutter the area and make it welcoming by putting in a small bench and vase of fresh cut flowers.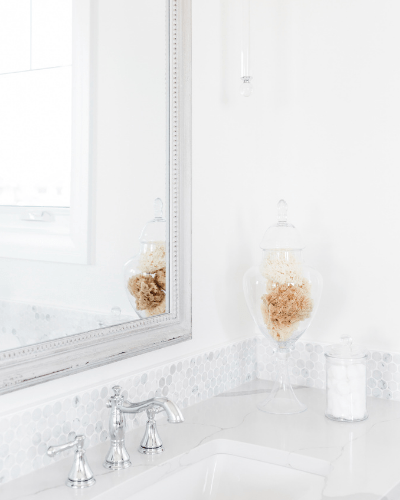 If you are selling your house, cleaning is a no-brainer, and clutter is a killer. Get a head start on packing and begin packing up extras that are taking up space on your mantle, table surfaces, etc. Clutter makes your house look smaller, and if you have a small house, it makes it feel claustrophobic. Not advantageous to a quick profitable sale.
Storage is something every buyer is looking for and can never have enough of. Take half of the stuff out of your closets and neatly organize what is left in there. Buyers will snoop, so be sure to keep your closets and cabinets neat and tidy.
Maximize the light in your home. After location, good lighting is the one thing that every buyer cites that they want in a home. Take down the drapes, clean the windows, change the lamp shades, increase the wattage of your bulbs and cut the bushes outside to let in the sunshine. Do what you have to do to make your house bright and cheery-it will make it more sellable.
Another important thing to do when selling your house is to de-personalize it. The more personal stuff in your house, the less potential buys can imagine themselves living there. Get rid of a third of your stuff-put it in storage. This includes family photos, memorabilia, collections and personal keepsakes. Consider hiring a home stager to maximize the full potential of your home. Staging simply means arranging your furniture to best showcase the floor plan and maximize the use of space.
A coat or two of paint is always a good investment. If you decide to make the effort, consider flat paint in areas for resting and relaxing. You can add some colours, but neutral is always best. Satin paint is great in common areas and places there's a bit more action taking place. It's also easier to clean up if someone spills tomato soup on the wall.
Quick fixes before selling always pay off. Mammoth makeovers, not so much. You probably won't get your money back if you do huge improvement projects before you put your house in the market. Instead, do the updates that will pay off and get you top dollar. Get a fresh coat of paint on the walls, clean the curtains or buy inexpensive new ones replace door handles, cabinet hardware, make sure closet doors are on track, fix leaky faucets and clean the grout. Your Sales Representative will help you determine which projects to attack.
Clients usually know what they like best about their home. It's usually what they saw that made them want to buy, or it is something they have added to make the home particularly special. Whether it is a staircase, a great view from the kitchen sink, a pergola or a three-car garage, do something to make the buyers linger in that magical space.
You need to be "show-ready" at all times-you never know when your buyer is going to walk through the door. You have to be available whenever they want to come see the place and it has to be in tip-top shape. Don't leave the dishes in the sink, keep the dishwasher cleaned out, the bathroom sparkling, and make sure there are no dust bunnies in the corners. It's a little inconvenient, but it will get your house sold.
You might think a cuddly dog will warm the hearts of potential buyers, but you could be wrong. Not everybody is an animal over. Buyers don't want to walk in to your home and see of bowl of dog food, smell the litter box or have tufts of pet hair stuck to their clothes. It will give the buyers the impression that your house is not clean. If you are planning an open house, send the critters to a pet hotel for the day.
No buyer wants to discuss your home while you are standing there. On average, clients spend 20-30 minutes in a home that has some promise; very few stay more than 5 minutes in a house with the seller within ear shot. If nothing else, go outside on the porch or in the yard. Let the home speak for itself.
Your Team Kingston is ready to jump in and answer your questions. We'd love to kick off the experience with you today. Get in touch with us to get the conversation started and we'll lead the way.
VISIT US IN PERSON
1329 Gardiners Rd, Suite 105
Kingston, Ontario K7P 0L8